Sexual health and relationships
Information for young people aged 13-25
We asked young people in Camden what they thought they needed to know about sex and relationships. This is what young people said: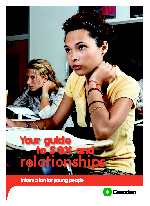 ​
Knowing about sexual relationships, sexual health and your rights is important if you want to stay safe, look after yourself and be confident about your personal health.
Watch the video of Bigga Fish event for young people in Camden
More information on sexual health and relationships, contraception and local services on the urlife website here
For advice from other young people, call Youth2Youth on 020 8896 3657 or go on-line at www.youth2youth.co.uk.