Keeping fit
Keeping fit is very important. Camden has many sport centres, outdoor gyms and great parks. Get active!
A day with DIVERSITY
Diversity Curtis Barlow, the talented winner of the competition spent the day with Diversity in their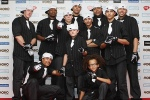 ​studio for a once in a lifetime dance workshop with the Britain's Got Talent winners. Don't forget, the competition might be over but you can still keep dancing with Let's Dance with Change4Life.
Here is the link for sports centres and sport halls in Camden
Find out where is your nearest outdoor gym here and watch the video: