Camden Safeguarding Children Board
Every council has to have a Local Safeguarding Children Board (LSCB).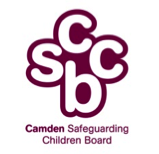 It is the Board's job to make sure agencies and organisations who work closely with children in the borough are co-operating effectively to keep children safe and promote their welfare.
You can see who sits on the Board, the Board's annual report and Business Plan, Camden's plan for children and families and up to date local and national documents about safeguarding children and young people by going on to the Camden LSCB website: www.cscb.org.uk
Below is a parent's guide to child protection in Camden.
​