Keeping fit
Keeping fit is very important. Camden has many sport centres, outdoor gyms and great parks. Get active!
Top tip how to keep fit – 60 active minutes. Watch the video here
Swimming is a great way for families to get moving and have fun together. Being in the water helps us be more active and stay healthy, and is also a great way to unwind and have lots of fun. Swim4Life is a really enjoyable part of making a Change4Life; helping us live healthier, happier and longer lives
Swim4Life - healthy fun and swimming games for kids
A day with DIVERSITY
Diversity Curtis Barlow, the talented winner of the competition spent the day with Diversity in their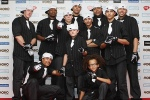 ​studio for a once in a lifetime dance workshop with the Britain's Got Talent winners. Don't forget, the competition might be over but you can still keep dancing with Let's Dance with Change4Life.