Charter for care leavers
What is the Charter for Care leavers?
The Charter for Care Leavers was published by the Department for Education and launched by the Children's Minister Edward Timpson during National Care Leavers' Week in October 2012.
The Charter is a statement of standards (values), beliefs (principles) and promises.
It says what care leavers want professionals and the Government to keep in mind when making decisions about their lives.
The aim of the Charter
The Charter aims to reinforce the commitment of the Government. It also clearly states the principles which are to guide local authorities in planning long term support for care leavers up until they are 25.
The Charter was created by a group of care leavers from The Care Leavers Foundation.
Camden commitment to the Charter
Camden signed up to the Charter for Care leavers. This means that Camden council, as a corporate parent, agrees to use the Charter principles when making decisions about care leavers.
Charter for care leavers states the following principles and values:
To respect and honour your identity
To believe in you
To listen to you
To inform you
To support you
To find you home
To be a lifelong champion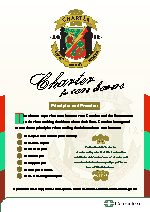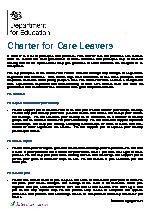 ​